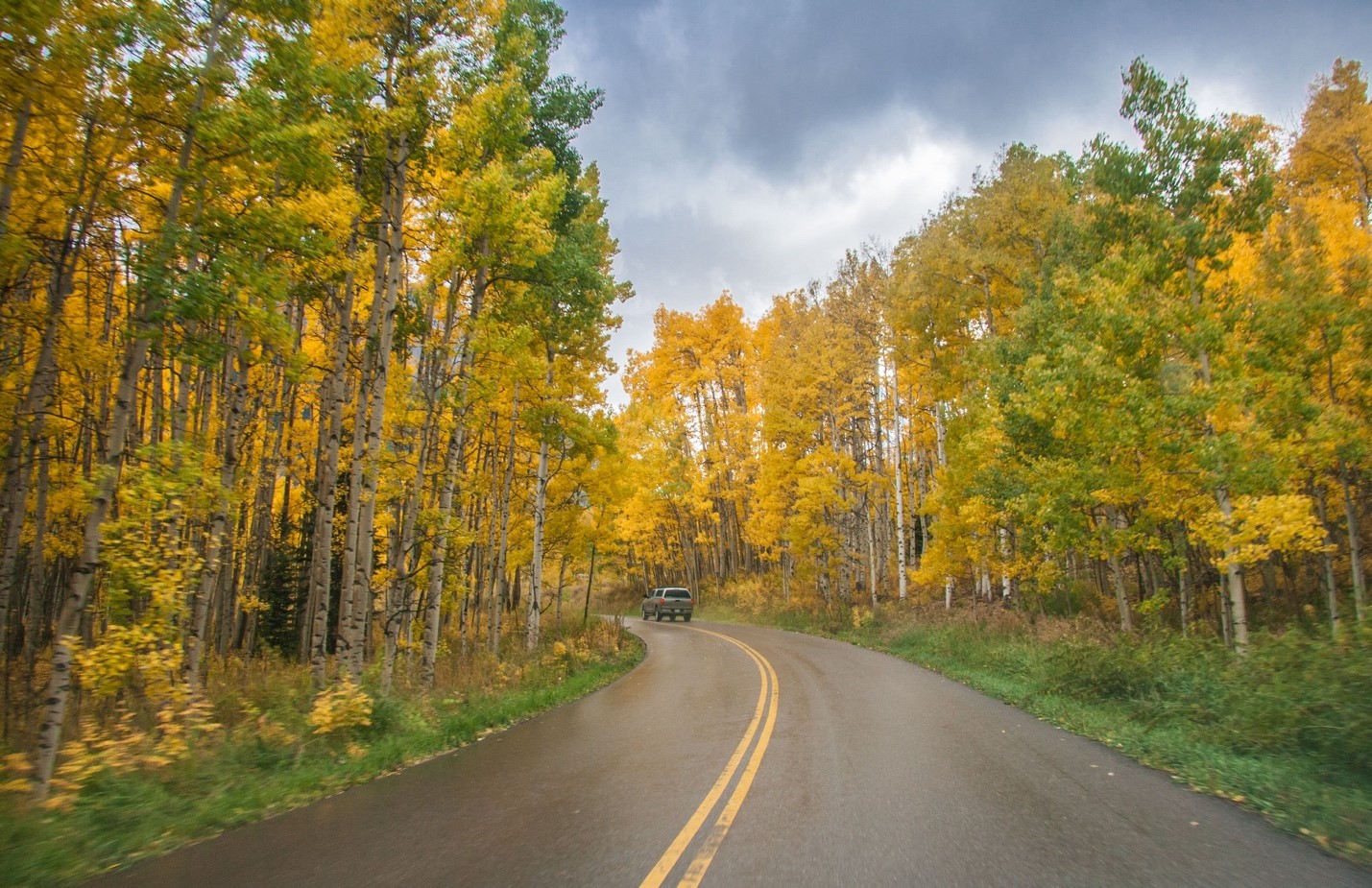 01 Oct

Best Drives to See Fall Colors in Colorado

It's hard to select a favorite season in Colorado, but we definitely fall in love with autumn's colorful pallet each year. As the mornings and evenings grow cooler, our state's hallmark aspen trees clue in that it's time to start changing. Leaf peepers can enjoy a weekend drive through the mountains to see the trees embrace autumn's arrival. Here are some of our favorite locations!
Trail Ridge Road
Fortunately for Broomfield residents, Rocky Mountain National Park is only a stone's throw from our bustling community. This famous national park is known for its picturesque mountain reliefs and winding roads. Trail Ridge Road runs through valleys and atop hillsides, offering visitors sweeping views of the golden aspens. As the highest paved continuous road in the United States, this drive will quite literally take your breath away.
Independence Pass
Leaf lovers looking to make a weekend getaway should drive this road from Twin Lakes to Aspen. Pick up sundries at the locally run general store, nestled between the town's namesakes, and head up Independence Pass. This high-elevation drive gives visitors the chance to see rugged outcroppings, soft meadows, and lush forests, speckled with golden aspen trees. Finish the drive with dinner in Aspen and watch the sunset illuminate the city's scenic downtown.
Highway of Legends
For a memorable fall experience, take a day trip to Southern Colorado. This lesser-trafficked section of our state is home to some of the most beautiful terrain in the Rockies. This scenic by-way is aptly named, as it was well-traveled by Native Americans and Spanish explorers during America's western expansion. Drive over La Veta pass and catch the mountains turning from green to gold. Spy some of Colorado's pre-historic volcanoes, stretching outwards from the Spanish Peaks.
Squaw Pass
Idaho Springs and Evergreen are beautiful mountain towns that offer gorgeous views of autumnal Colorado. Bask in the breathtaking views of nearby 14-er Mt. Evans, and witness the rolling hills surrounding Echo Lake change out of their summertime attire. This drive over Squaw Pass can be completed in under three hours, making it the perfect way to spend a Sunday afternoon. 
Guanella Pass
This drive isn't far from Broomfield, but its scenic mountain roads transport visitors to some of Colorado's most beloved locales. The 22-mile drive from Georgetown to Grant depicts our treasured Rockies in all their autumnal glory. Take a break from the road and hop on the historic Georgetown Loop Railroad to witness the mountainside set ablaze with fall's oranges, yellows, and reds.
Driving along mountain roads during Colorado's turn season is the best way to experience gorgeous aspen trees changing colors to decorate the mountainsides of our treasured home. These roads often close for wintertime so check each status before you embark on your leaf peeping journey.
Turnpike Shops at ARISTA Broomfield is the perfect meeting place for a leaf-spotting adventure. Fuel up with Starbucks coffee or grab a hearty, healthy bowl of nosh from Prosperoats. Then, hop on Highway-36 for convenient access to the great Rocky Mountains.