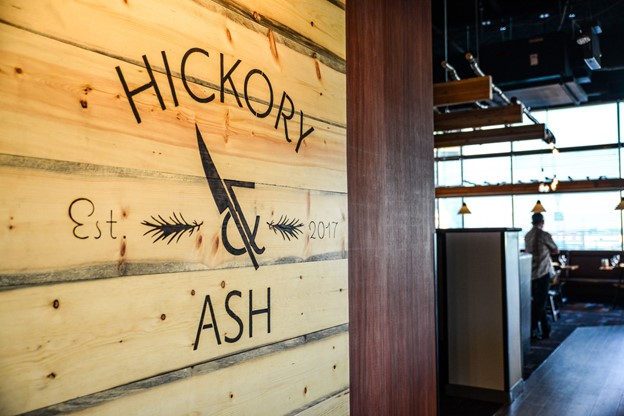 08 Jun

ARISTA Feature: Hickory & Ash

Hickory & Ash was brought to the ARISTA Broomfield development in 2017 via father-son restaurant masterminds Kevin and Ryan Taylor. Described as a modern American meatery, Hickory & Ash's unique menu zeroes in on sustainably sourced and locally farmed Colorado-centric cuisine.

With nearly five years under its belt, the partnership has proven that the concept of keeping it in the family is a successful one. Executive Chef Ryan Taylor has curated a brilliant and extensive fine dining menu that showcases his Colorado roots, while his father, Kevin Taylor, beloved Denver chef and restaurateur manages the business end, by-way-of Kevin Taylor Restaurant Group (KTRG).

For many, family and food create strong memories. Hickory & Ash does not disappoint on this front, though the Taylor family will certainly elevate what the majority of us are accustomed to. The beautifully plated hickory-grilled meats, for example, will have your senses dancing and your mouth salivating before your first bite, while the innovative appetizers and side selections will appeal to curious palates everywhere. If meat isn't your thing, never fear, the menu also provides vegan-friendly alternatives in every category.

With plenty of local beers, craft cocktails, and an ample wine list, everything comes together magically when faring at Hickory & Ash.

The restaurant is currently offering dine-in (indoor and outdoor) and take-out options Tuesday-Saturday from 4-10 p.m. Reservations are encouraged for those dining in. The private room at the venue is event-friendly, so consider Hickory & Ash for your next party, reception, or group meeting. There are also catering options available for those who prefer to host their own functions.

Hickory & Ash is located at 8001 Arista Pl #150, Broomfield, CO 80021, across the street from Arista Park and next door to the popular Arista Deli & Coffee.

The Turnpike Shops at ARISTA Broomfield is a fast-growing development in ARISTA Broomfield's highly sought-after community. Located at 120th and Wadsworth Parkway, the Turnpike Shops offer a prime spot for your retail business venture. Contact us today for more information about our masterful 18-acre project.